As cities increasingly become hotspots for emerging infectious diseases, experts are focusing on the impact of rapid urbanisation on the persistence and transmission of zoonotic pathogens in soil. One pressing issue is the presence of soil-dwelling animals, such as invasive giant African snails, which are frequently found in urban green spaces across tropical and subtropical regions. These creatures pose direct and indirect threats to human health by acting as carriers for pathogens and antibiotic resistance genes. However, our understanding of soil animal-related biological contamination in urban environments remains limited.
To bridge this crucial knowledge gap, a research team led by Prof. ZHU Yongguan and Prof. SUN Xin at the Institute of Urban Environment of the Chinese Academy of Sciences conducted a thorough investigation into the biological contamination characteristics of the giant African snail's gut microbiome and resistome along an urbanisation gradient.
Prof. SUN explained, "Our study demonstrates that invasive giant African snails in urban green spaces serve as reservoirs and carriers of antibiotic resistance genes and potential human pathogens. Urbanisation contributes to an increase in the diversity and abundance of animal-derived biological contamination, resulting in snails within urban environments harbouring a greater number of high-risk antibiotic resistance genes and potential human pathogens, such as ESKAPE pathogens."
Prof. ZHU emphasised the need for action, stating, "Urbanisation intensifies the challenges posed by invasive animal populations, and we must prioritise addressing the issue of biological contamination from invasive animals in urban areas within the 'One Health' framework."
This research provides valuable insights into the effects of urbanisation on the gut microbiome and resistome of soil animals and raises concerns about the ecological and health risks associated with other invasive species.
The study was published in Environmnetal Science and Technology on April 25.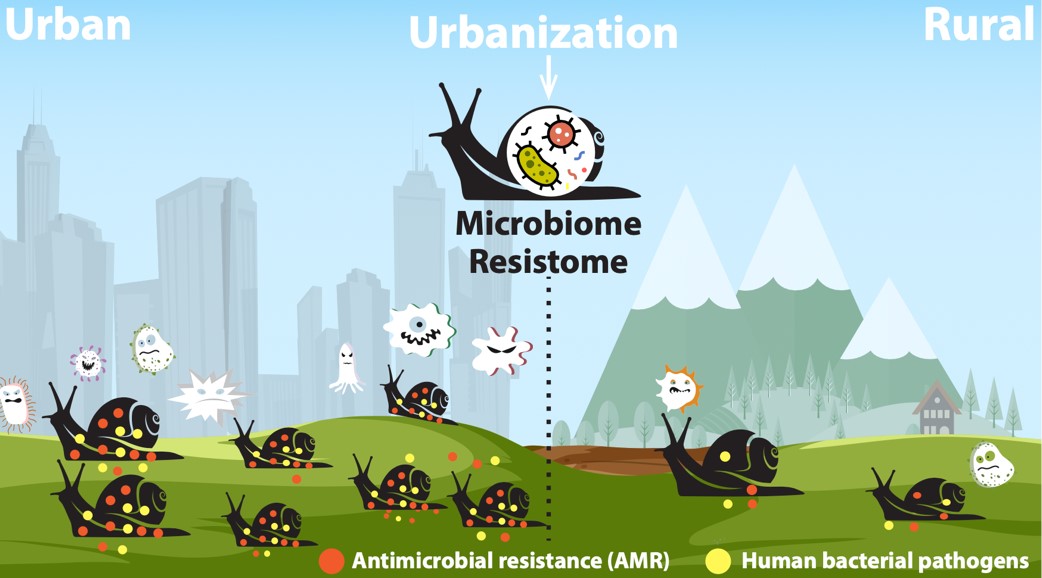 Increasing Antimicrobial Resistance and Potential Human Bacterial Pathogens in an Invasive Land Snail Driven by Urbanization (Image by ZHANG Yiyue)
Page: https://pubs.acs.org/doi/10.1021/acs.est.3c01233
Contact: ZHANG Yiyue
Institute of Urban Environment, Chinese Academy of Sciences
E-mail: yiyuezhang@iue.ac.cn