Plankton play a pivotal role in aquatic food webs, elements recycling and water purification. Most plankton are invisible to the naked eye and thus are largely uncharacterized. Eukaryotic plankton often present a skewed abundance distribution in a local community, with relatively few abundant species coexisting alongside a high number of rare species. However, relatively little is known about the community assembly processes of rare species. Moreover, almost no study has explicitly investigated if there is a response difference between rare and abundant species to cyanobacterial blooms.
Dr. Xue Yuanyuan and Professor Yang Jun, from the Institute of Urban Environment, Chinese Academy of Sciences conducted a study to investigate the dynamics of rare planktonic eukaryotes using high-throughput sequencing, and to explore the co-occurrence patterns of rare and abundant eukaryotic plankton in a subtropical reservoir following a cyanobacterial bloom event.
They found that the similarities of both abundant and rare eukaryotic plankton subcommunities significantly declined with the increase in time-lag, but stronger temporal turnover was observed in rare taxa.
They further examined the temporal successions of rare and abundant subcommunities and the underlying mechanisms that drive them, and uncovered some interesting findings.
Dr. Xue said, "The bloom event significantly altered the eukaryotic plankton community structure and rare eukaryote diversity without affecting the diversity of abundant plankton. In contrast to abundant taxa, rare taxa with a narrow temporal niche were more strongly related with environmental changes, and may be very vulnerable to ecological drift based on neutral model".
"Co-occurrence network analysis revealed that putative keystone taxa mainly belonged to rare species, suggesting that rare species may contribute to community stability and covariations were predominantly positive, implying that extensive mutualistic interactions may occur among rare and abundant species", she said.
Professor Yang further explained that their findings expand current understanding of the ecological mechanisms and microbial interactions underlying plankton dynamics in changing aquatic ecosystems, with special emphasis on the rare biosphere. Finally, they call for intensive research to reveal the drivers of rare species diversity and their ecological functions, thus enabling prospective predictions of ecosystem response to environmental change.
The study entitled "Distinct patterns and processes of abundant and rare eukaryotic plankton communities following a reservoir cyanobacterial bloom" has been published in prestigious The ISME Journal, 12, 2263–2277 (2018).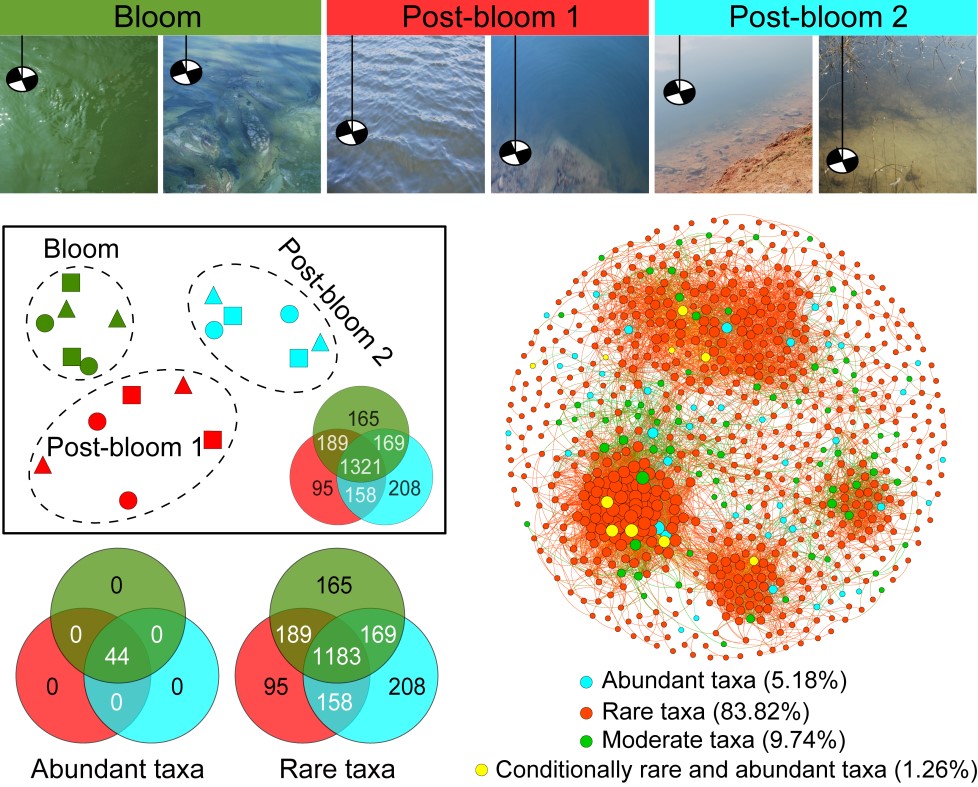 Abundant and rare eukaryotic plankton community response to cyanobacterial blooms