Antibiotic resistant genes (ARGs), as a new type of environmental pollutants have been extensively detected in drinking water systems, and constitutes a major public health issue. Besides, ARGs can spread and diffuse by mobile genetic elements (MGEs) such as plasmids, transposons among bacterias, which is known as horizontal gene transfer (HGT), and which further increases the risks. Therefore, horizontal transfer of ARGs is being paid to more and more attention in drinking water systems.
Aquatic Quality and Safety group,IUE,CAS successfully built the model of HGT in laboratory, and systematically studied the effect of the two disinfectants (chlorine and UV irradiation) commonly uesd in drinking water treatment technology to HGT. The results of the research found that both UV irradiation and low-level chlorine treatment reduced the conjugative gene transfer frequency. Thereinto, UV irradiation and the higher chlorine treatment (0.3-0.5 mg/l) significantly reduced the amount of bacteria, thereby lowering the conjugative transfer frequency. However, the mechanism of which the lower chlorine concentrations tested (0.05-0.2 mg/l) slowly inhibite horizontal gene transfer is depressing the expression of related genes. The research achievements are significant for evaluating the real health risk of resistance genes in drinking water system and controlling its diffusion and spread, etc.
Full text URL: http://www.sciencedirect.com/science/article/pii/S0043135416300203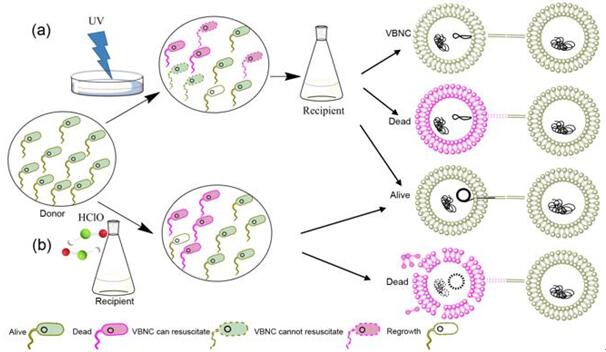 Introduction of the author: Dr Lin Wenfang of IUE,CAS is the first author, the corresponding author of the article is researcher Yu Xin. This study was financially supported by National Natural Science Foundation of China (51478450, 51278482, and 51408372).