The major greenhouse gas, nitrous oxide (N2O), increases at a rate of 0.25% every year. N2O is also well known to be released in a high proportion from agricultural soil systems, thus exacerbating global warming and returning as a serious problem in agriculture.
Biochar has been considered as a promising soil amendment for improving fertility and mitigating N2O emission from the arable land. However, biochar's effectiveness in acidic tea soil and underlying mechanisms are largely unknown. Recently, a research team led by Prof. YAO Huaiying from the Institute of Urban Environment of the Chinese Academy of Sciences conducted an experiment by adding two biochars (1% w/w, LB, generated from legume and NLB, non-legume biomass, respectively) to investigate the effects of biochar on soil N2O emission, and microbial community in an acidic soil.
The results showed that biochar altered soil properities and that both biochars at ~1% addition had little effect on microbial CO2 respiration but suppressed soil N2O emission by 40% during the incubation. The divergence in N2O efflux rates between soils with and without biochar addition aligned to some degree with changes in soil pH, inorganic N, and dissolved organic carbon. Also, biochar addition significantly modified the fungal community structure and N cycling process.
These findings contributed to better understanding of the impact of biochar on soil N2O emission, and microbial community and the consequences of soil biochar amendment for improving the health of acidic tea soil. The study entitled "Biochar suppresses N2O emissions and alters microbial communities in an acidic tea soil" has been published in Environmental Science and Pollution Research, 2019, 26, 35978. And doctoral student ZHENG Ningguo and Prof. YAO Huaiying are the first author and corresponding author, respectively. The study was supported by the National Natural Science Foundation of China and other related talent programs.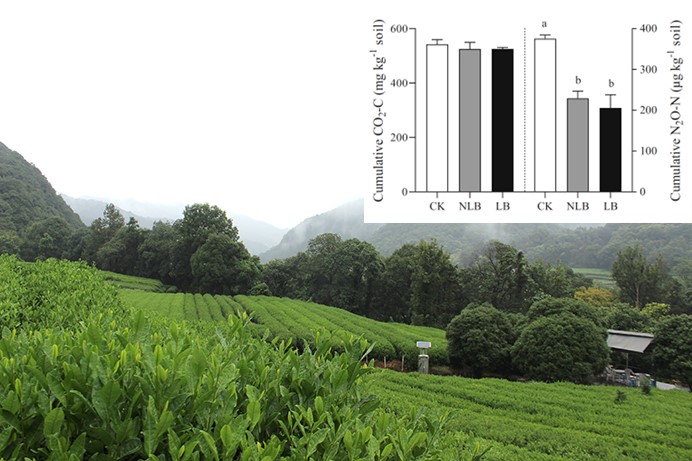 Biochar suppressed soil N2O emission in acidic tea soil. (Image by IUE)