At the invitation of the Key Lab of Urban Environment and Health of Chinese Academy of Sciences (CAS), Prof. Andreas Kappler from the Applied Geo-Science Center of the University of Tübingen, Germany, visited the Institute of Urban Environment (IUE), CAS, from April 19th to 21st, 2014.
Prof. Kappler gave a speech on April 19th entitled Microbial Formation and Transformation of Iron Minerals and the Consequences for the Fate of Trace Metals in the Environment, which detailed the formation and transformation of iron minerals, and the application of iron oxidation in arsenic removal from rice soil and drinking water as well as the remediation of heavy metal pollution. He also answered questions and shared his research experience with IUE's postgraduates.
Prof. Kappler received his doctorate from the University of Konstanz in 2000 and has made great achievements in microbial research, especially in the study of iron-oxidizing bacteria dependant on nitrate reduction. So far, he has published more than one hundred papers in top journals such as Nature Geoscience, Environmental Science and Technology, Geochimica Cosmochimia Acta as well as Applied and Environmental Microbiology. His current research interest is the role of microorganism in the biogeochemistry cycle of iron and its application in pollutant removal and metal remediation.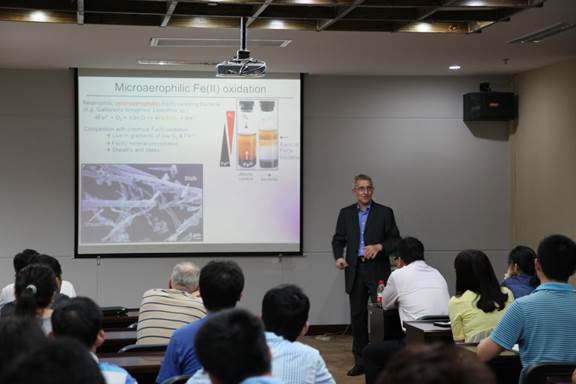 Prof. Kappler delivers a speech to IUE's staff and postgraduates.