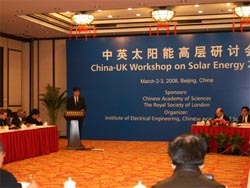 Under the aegis of CAS and the Royal Society of London, a high-level Sino-UK seminar on solar energy convened in Beijing on 2 and 3 March.
It was attended by some 30 scholars of research organizations and institutions of higher learning both from China and UK. CAS Vice President LI Jinghai delivered a speech at the meeting.
At the conference, an overall picture of the national utility of solar energy was unfolded. The participants made in-depth exchanges on views and experiences regarding the development and cooperation in the area. The policies, key technologies, supporting services were reviewed and further cooperation between the two countries was expected.